LASER PROTECTION WINDOWS / PROTECTION LENS 

(PRECITEC, RAYTOOLS, WSX)
Celestron Laser is Chinese manufacturer of laser parts & consumables, like laser lenses, laser nozzles, ceramic rings, and other accessories, which are widely used for fiber/CO2 laser machines. The lens can be used for PRECITEC, WSX, RAYTOOLS, HIYAG, LASERMECH, etc… and machines for TRUMPF, BYSTRONIC, AMADA, PRIMA, LVD, HANS LASER, YUEMING, HSG, BODOR, LEIMING, GWEIKE, JQ, CHUTIAN, PENTA, LEAD LASER, TQ LASER, GN LASER, HE LASER, TH LASER, QUICK LASER, QY LASER, DNE LASER, GLORYSTAR LASER, YAWEI LASER, etc…
The main function of the laser protective lens is protecting pricy laser optics against damage from material splatter and dust, due to the AR coating on the surface is designed according to the working wavelength of the laser machine, so the laser protective windows can extend the service life of the laser machine, reduces the use-cost.
Material:JGS1/quartz
Diameter range:20-140MM
Thickness range:1-9MM
Diameter tolerance:±0.01mm
Thickness tolerance:±0.01mm
Wavelength:1064nm
Transmittance:99.998%
Clear aperture:≥90%
Parallelism:<0.1mm
Surface Quality:20/10
Chamfer:<45°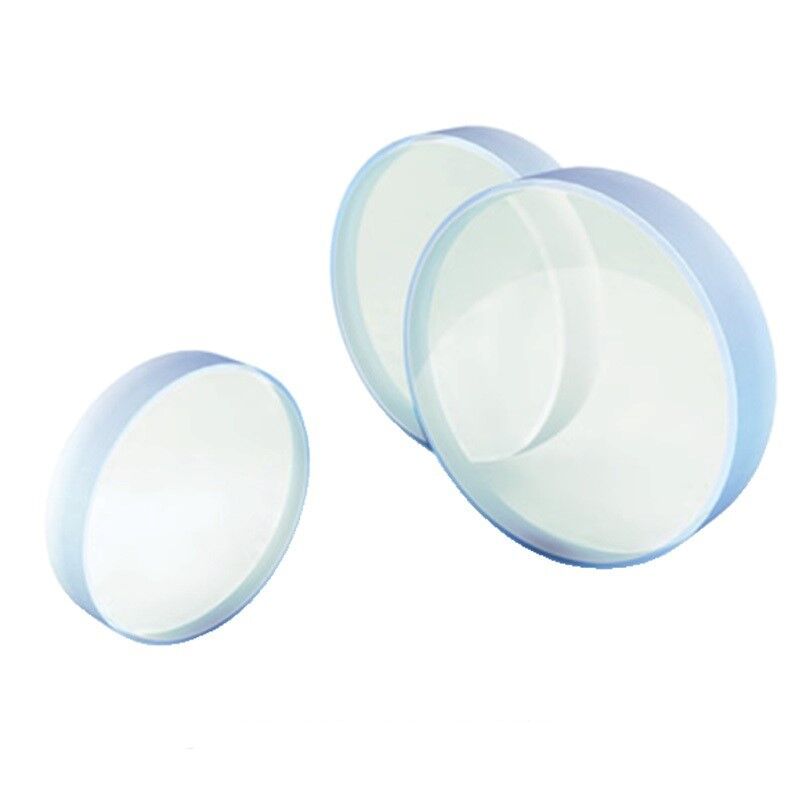 Fiber Laser Cutting Machine Protection Windows (Lens) Features
l  The protective window is used at laser cutting head to protect the focusing lens in case of damage.
l  Fiber protective window, shaped as Plano-Plano window, coated AR/AR @ 1030-1090nm at both sides.
l  Material adopted high-quality JGS1 or Fused Silica (FS). After polishing, coating both sides and other fine processing, making it high transmittance, high temperature and humidity resistance, strong resistance to laser.
l  0.5 mm*45° protective chamfering, follow the requirements of humanized design.
l  We can provide any wavelength coating according to customer demand. For other wavelengths, diameter, thickness and coating, we can also produce as customized requirements.
l  Standard, high efficiency, low loss anti-reflectance
Thin film coating applied to both sides
Total Absorption < 30PPM, Transmission > 99.9%
Diameter Tolerances: +.000", -.005"
l  Thickness Tolerances: ±.010"
Parallelism: < 1 arc minutes
Fiber Laser Cutting Machine Protection Windows (Lens) Specifications