LightWELDTM 1500 
Handheld Laser Welding System
LightWELD is FASTER and Easier than Traditional MIG & TIG Welding
Experienced MIG and TIG users benefit from the more rapid and flexible processing capabilities of LightWELD:
Up to 4X faster than TIG

Easy to learn and operate with highest process      consistency

High quality welding of thick, thin and      reflective metals without distortion, deformation, undercut or      burn-through

Welding of dissimilar metal parts of different      thicknesses

Dramatically low heat input and minimized heat      affected zone

Minimal part setup and post-processing      grinding or polishing

Increased productivity with no need for      machining or straightening deformed parts
Light

WELD

 - Less Heat & Distortion for More Productivity & Flexibility
TIG welding may generate extreme heat that deforms thin materials, produces poor visual finishes, is difficult when welding copper and limited welding metals of dissimilar thicknesses.
MIG welding requires consumable wire, material pre-cleaning and beveled joints for thick metals for full penetration.  Travel and work angles are limited and vertical positions are extremely challenging.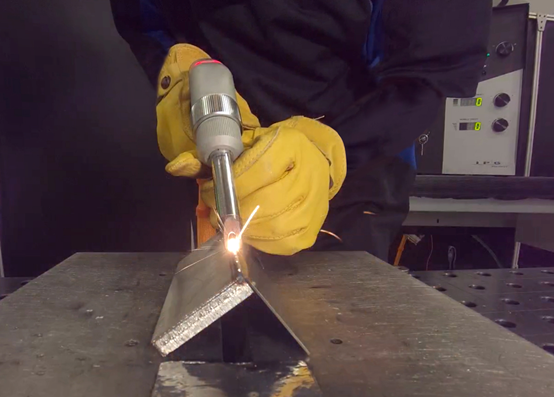 LightWELD enables dramatically faster welding, is easier to learn and operate, and provides higher-quality, consistent results across a wider range of materials and thicknesses than MIG or TIG with minimal distortion, deformation, undercut or burn-through.
LightWELD welds dissimilar metals of different thicknesses with ease and creates aesthetic high-strength joints with minimal or no consumable wire.
Light

WELD

 - Built-in Parameters & Stored Modes Ensure Optimized Welds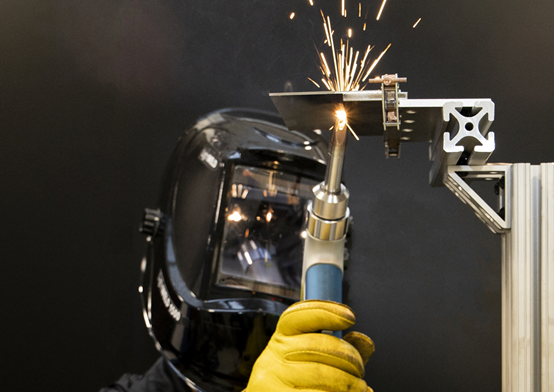 Simple mode selection for      consistent high-quality welds 

Less skilled operators      require less training and weld like seasoned professionals quickly, reducing      labor costs while preserving quality

Modes include wobble      parameters for wider seams and for parts with poor fit-up

Advanced users create and      store programs for material combinations and can switch between modes      instantly
Light

WELD

 - Complete Laser Welding Source 
and Controls in a Single Unit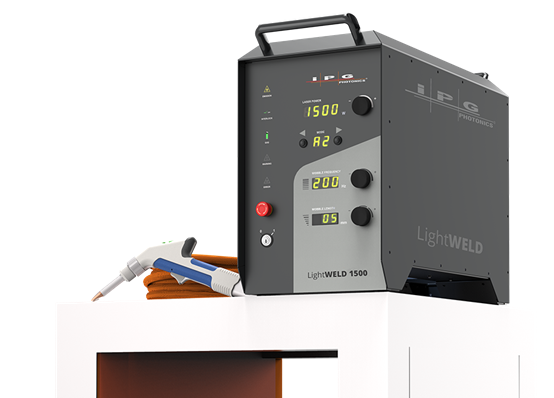 Adjustable laser power      up to 1500 W

Preset & user-defined      modes optimize material-thickness combinations and can provide up to 2500      W High Peak Power for even greater capability

Wobble welding      controls for frequency and width increase capability and produce highly      aesthetic seams

Rear panel provides intuitive      connections for power, process gas and external accessory controls

Unique air-cooling      eliminates the added expense and complexity of associated water cooling      required in other laser welding systems
Light

WELD

 Material Range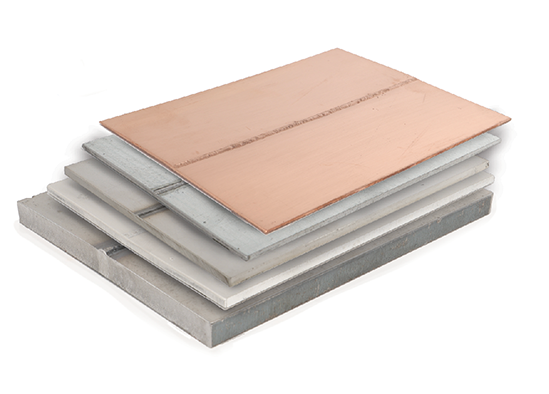 Thick, thin, reflective and dissimilar metal welding without wire that is difficult or impossible with traditional methods, plus materials with different electrical conductivity
Light

WELD

 - Maximum Welding Capability with Minimal Rework
Weld metals that are difficult or impossible with TIG

Copper and high/low electrical conductivity metals

Thick metals to thin sheets and thin section parts
Weld seams and corners with minimal or no wire

Highly aesthetic fillets in high-strength joints without excess       metal

Significant reduction in post-weld grinding or sanding, reducing       labor costs

Eliminates the need for cleanup or disposal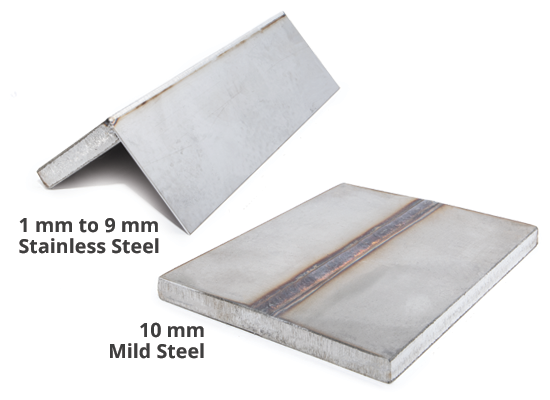 LightWELD - Process Automation & Programmability
Predefined welding parameters for      high-quality, consistent welds

Novice welders are trained and welding in a      matter of hours, reducing training and production costs

Simple controls for selection of 74 stored      modes and saving of user-defined process parameters

Customized parameters for laser power, wobble       width and frequency are saved to user-modes and recalled as needed

Simple mode selection allows rapid switching       between different material thickness combinations

Novice welders use stored parameters to       achieve the same high-quality, consistent welds as seasoned operators
Light

WELD

 - 1500 W Fiber Laser Source Power
IPG world leading, solid-state, zero-maintenance fiber laser source      ensures maximum reliability in industrial environments

Unmatched laser stability guarantees consistent power across the      entire output range from 150 - 1500 W

Select stored modes enable up to 2500 W of High Peak Power for even      more capability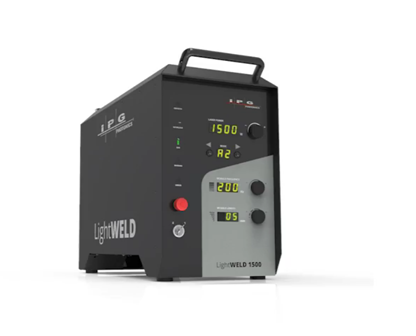 Compact Handheld Welding Gun
Ergonomic, lightweight and proven to be the most comfortable and easy to use laser welding gun with built-in wobble functionality
2-step trigger and welding part contact sensor enhance operator      safety

Included selection of tips for optimum welding of different joint      types

5 m (16 ft) umbilical connection caries fiber laser delivery, gas and      electrical signals to the base unit - optional 10 m (32 ft)

Compatible with all leading wire feeders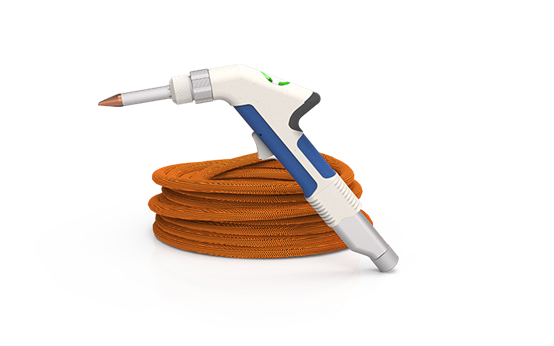 Built-in Wobble Welding for Increased Productivity
Simple on-the-fly control      of up to 5 mm of additional weld width with selectable frequencies

Creates highly aesthetic seams and welding of parts with poor fit-up

Wobble parameters are      preprogrammed and can be saved by the operator and recalled immediately as      needed
Optional Wire Feeding Package
Wire welding capability extends laser welding applications to poorly fit-up parts
Used for low carbon steel, stainless steel, aluminum and non-ferrous metals and alloys
Wire feed speed range 40 – 600 cm/min (15 - 230 ipm)
Wire diameter capacity 0.8, 1.0, 1.2 and 1.6 mm ( 0.035''- 0.063'')
Package includes wire feed unit, electrical connections, nozzle assembly and IPG Process Mode software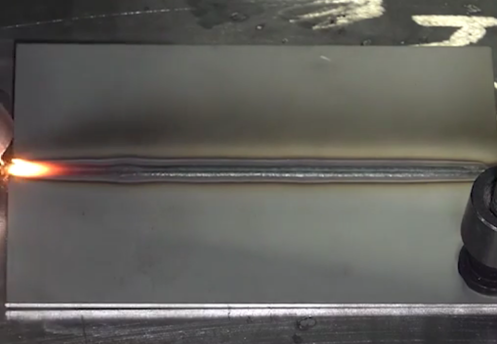 The FIRST Truly Portable Laser Welding System
The smallest and lightest      laser welding system available

Fits on welding cart      reducing floor space and increasing portability

Robust steel construction      for workshop durability and remote location transport

Built-in automatic air      cooling

Integrated programmable      control of welding gas and pre-process purging
Environmentally Friendly Welding
Low electrical power      consumption

Clean operation and low      acoustic noise

Significant reduction in      welding  consumables, clean up and disposal
Simple Installation and Operation
220 V, 20 A, single phase power

Standard welding gas bottle

Compact, portable welding unit:

No consumable electrodes required

Wire-feed integration option for gap bridging      and welds with filler wire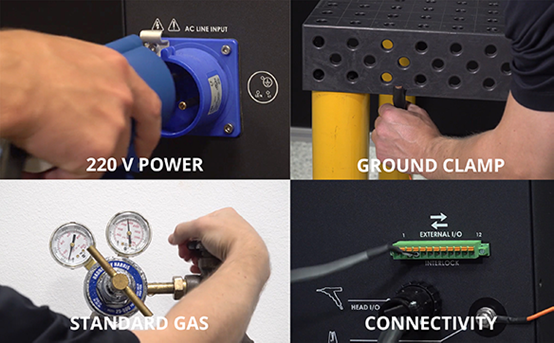 Light

WELD

 Safety Features
Key switch control to secure system from      unauthorized operation

Emergency-stop button for immediate unit shut down 

Safety interlock verifies integrity of laser delivery to the welding      gun

2-step weld gun trigger, enable and then fire, for intentional operation

Part contact electrical interlock turns off the laser power if the      welding head is not in contact with the welded parts

Door switch interlock circuits
LightWELD is a Class IV laser system and routine precautions are required for the safe operation of the equipment. Operator protective equipment including welding gloves, welding shield and 1070 nm laser-safe glasses are required.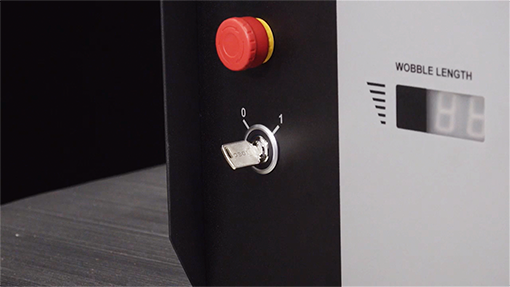 LightWELD - Technical Specifications
Laser Type
Ytterbium Continuous Wave 1070 nm Fiber Laser 1500 W Average Power, with 2500 W Peak Power
Air-Cooled, Class 1 Red Guide Beam
Umbilical Cable
Utilities Bundle from Base Unit to Head including: Fiber Laser Delivery, Process Gas, Process Head Control Signals and Safety Interlock Circuits - Length: 5 m (16 ft) optional 10 m (32 ft) 
Cooling
Air Cooled – No External Chiller Required
Weld Head
Handheld Wobble Welding Head
Collimating Length 40 mm, Focus Length 120; Spot size 150 μm
Incorporating Safety Control Sensors and Laser-on Indicator
User-changeable nozzles for planar, internal corner, and external corner welds
Spot Size
150 μm 
Wobble Length
Adjustable up to 5 mm
Process Gas
Argon, Nitrogen, Argon + CO2 mix
Pressure approx. 620 kPa, (90 psi)
User Interface
Front Panel Controls of Laser Power, Mode, Wobble Length and Wobble Frequency: (Rotary knobs with digital display). Laser On/Off key Switch, E-Stop Button. - Status Indicator Lights
Computer Connection
Ethernet Connection to Web Page Interface Allowing Viewing/Adjustment of Welding Mode Settings and System Status and Alarm Signals
Safety
Class 4 Laser Device. Customer responsible for standard ANSI safety precautions.
System features include Key for laser ON/Off, 2-step laser operation trigger (Enable and Fire), Part-head contact safety circuit, Facility door interlock circuit
Operating Environment
Storage temperature -20 to 60 °C. Operating range +5 to 35 °C
Single-Side, Single Pass Material Weld Capability
Stainless steel, mild steel, galvanized steel, aluminum up to 4 mm, copper up to 1 mm
Facilities Requirements
Electrical: 220 V, 1 Ph, 50/60 Hz, < 20 Amp 
Weld Base Unit (W x D x H)
316 x 641 x 534 mm (12.4 x 25.2 x 21 in)
Weld Module Weight
53 kg, (118 lbs)
Accessories
Safety Glasses, Power Connecting Plug